Jacek Sikorski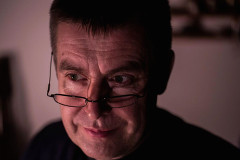 Vita
The violin manufacturer Jacek Sikorski has been running his atelier since 1992.
He started his adventure with violin making in Antoni Kenar Art High School in 1979. He is a graduate of the Poznan Music Academy (stringed instruments section, the department of instruments). He'd also had a thorough experience of the works of George Dawidts and Caroline Henry during his internship.
Visiting the violin manufacturing centers (mainly in Europe) he has acquainted himself with the local methods of building and restoring stringed instruments. He has entered numerous competitions, exhibitions and fairs. In 1999 he was asked to lecture on the instruments' conservation for the South Korea Association of the Violin Manufacturers - a workshop followed the lecture.
He considers the direct contact with the instruments of the virtuosos as his grandest experience. In 1992 he graduated with honors and opened his own atelier in Gdansk.