About Us
As a violin dealer and publisher I am connected to this world since more than 33 years. As a studied violist I still can enjoy my passion for stringed instruments after all this time working in this sometimes mythic world of violins.
Next to my work as a dealer I developed a certain quality to bring perfect photography of instruments on paper. This is how all these reference books for colleagues, makers and enthusiasts were created.
The highlight of my work was for sure the publication of the Antonio Stradivari books, 8 volumes in 2010 and 2016. More than 1300 copies were sold in more than 45 nations. More than half of the remaining instruments made by Antonio Stradivari are documented by the Jost Thöne Verlag within this publication.
Actually in 2021 we published a big format monograph on the Antonio Stradivari cello c. 1690 named Barjansky, which became the state of the art documentation on a string instruments at present.
In 2021 I was asked to sell a bigger Swiss collection of violins, viola and cellos of contemporary and historical instruments, which can be shown on appointment to you.
We are happy to welcome you!
Jost Thöne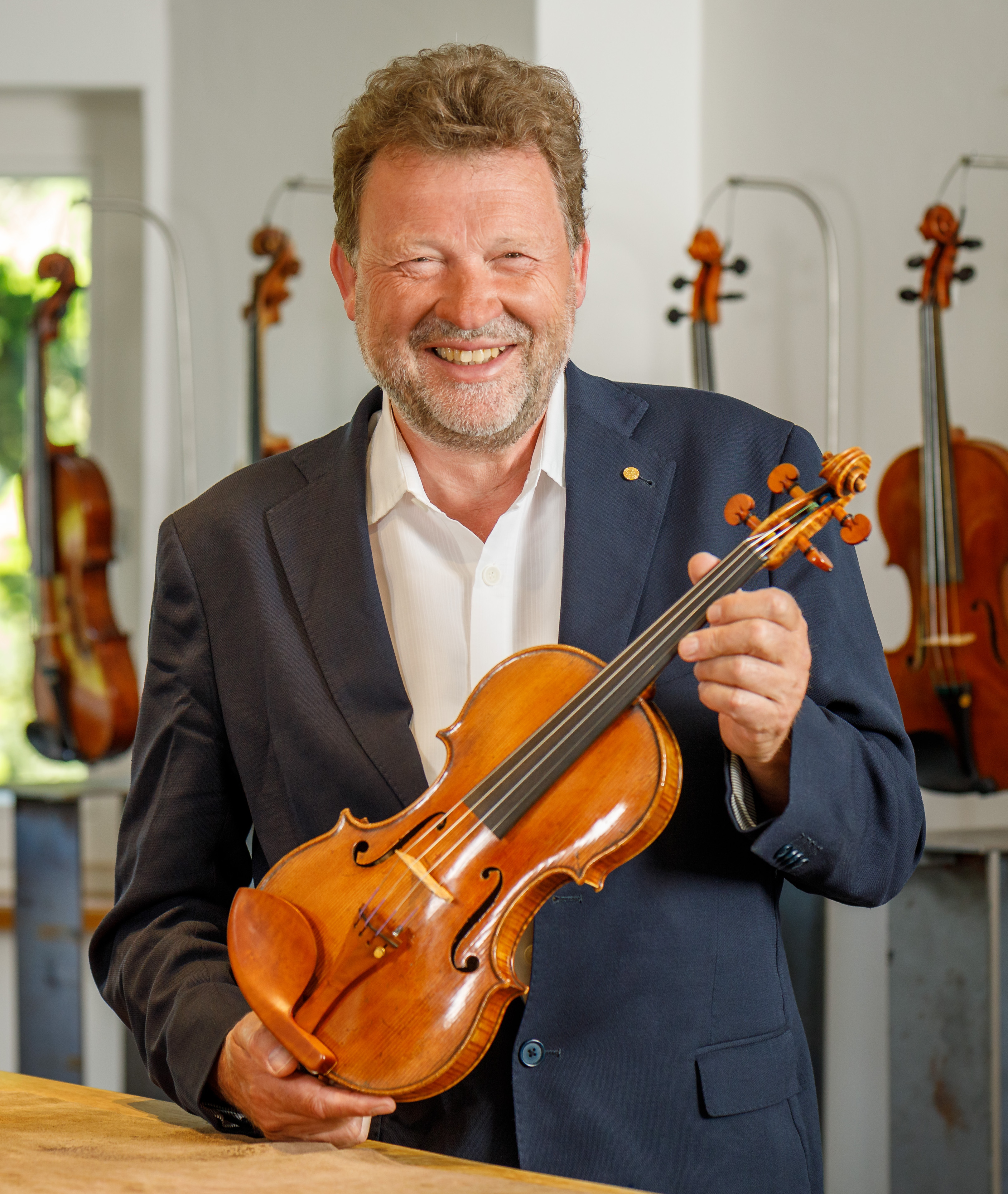 Jost Thöne, son of music pedagogue and composer Karl Thöne (1924-1993), was born Germany near Düsseldorf. Continuing the Thöne family tradition, he studied music and viola at the Academies in Dortmund and Muenster in Germany. In the course of his studies, he also spent a great deal of time learning about the art of violin making and its history. After completing his studies, Thöne decided to become a dealer in fine stringed instruments, with shops in Germany and in Italy.
Since 1998, when he established the publishing house "Jost Thöne Verlag", Thöne has published a dozen large books about the Italian and French violin makers of the last four centuries. These reference works feature more than 120 of these important violin makers along with their instruments and biographies.
The latest of these works was "Antonio Stradivari", published in 2010; it became "the state of the art" in violin documentation, showing in four volumes 300 violins, violas and cellos of the icon Antonio Stradivari in life size. This documentation gained international recognition.
Some of the books have been translated into four other languages besides English and are already being sold worldwide, for example by international auction houses such as Sotheby's, Christies or Tarisio in London and New York.
Jost Thöne founded the Violin Expo Cologne in 2006, creating a globally unique stage to present international contemporary violin making in the historic centre of Cologne. He supervised the exhibition "Antonio Stradivari – Myth and Music" in Cologne in 2010 as a guest curator of the Wallraf-Richartz-Museum & Foundation Corboud. This exhibition was unfortunately postponed due to culture budget cuts by the city of Cologne.
As the Head of String Instrument Department at the ALAGO ART & STRINGS GmbH in Wiesbaden Jost Thöne consults investors as an expert for HHSI (High-quality Historical Stringed Instruments). www.art-strings.de/