Gabriele Natali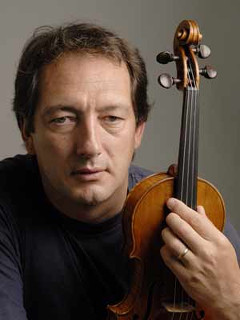 Vita
Gabriele Natali was born in Pistoia in 1960, he made his first violin at the age of 17, thanks to help from Mauro Scartabelli. He then met with violin makers Guido Maraviglia and Ovidio Giarelli, but most of all it was Giuseppe Stefanini whose valuable advice encouraged him to start working as a violin maker.
His passion for creating instruments with new characteristics, a passion which grew during the many days spent discussing the art of violin making with his friend Paolo Vettori, led him to produce instruments that are almost exclusively in the antique style, and copies inspired by the great Italian violin-making tradition of the 18th century. He has also received constant support and useful advice from the Italian concert violinist and discerning violin expert Marco Fornaciari.
Modern performers who play with his instruments include Daniel Stabrawa, concertmaster of the Berliner Philharmoniker, Domenico Pierini, first violin of the Orchestra del Maggio Musicale Fiorentino, Aida Carmen Soanea, first viola of Budapest Festival Orchestra, and winner of the Bucchi Award, Leonardo Matucci, first violin of the Puccini Festival Orchestra, Olesya Emelyanenko, first violin of the Orchestra Promusica from Pistoia, and Kevin Shih, a talented young Chinese player living in Vienna, to name just a few.
Contact
E-Mail: info@liarpi.it