Tadeusz Slodyczka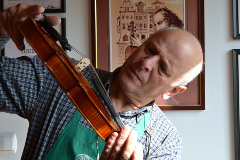 Vita
Tadeusz Slodyczka born on May 5, 1954 in Dukla. He grew up in a family of highland living first in the highest village in Poland, Tooth, and later in Zakopane on Gubalówce. Studied violin making in the Technical School of Lute Instruments in Nowy Targ, where he graduated in 1974. In the same year he started working in the Lower Silesia Factory Lute Instruments in Lubin. Alongside developing artistic passion, building classical guitars first, then the strings. In 1984 he started his own work. Annual leave used to practice at Francis Marduly in Zakopane. He also practices violin-making in other laboratories: at Volker Blaya in Dortmund (in 1987, 1988 - a total of 2 months); with Joseph Kun in Ottawa (1989-1990 - 9 months, in 1992 - 4 months); in Gia Batty Morassi in Cremona (in 1998 and 1999 - a total of 1 month). He completed courses of experts organized by the ZPAL (1991 - Poznan, 1992 - Warsaw).
Numerous prizes show the extraordinary work of Tadeusz Slodyczka.
He was invited to the jury of the international competition for Lute in Malta which will be held in February 2015 in Malta.
Their experiences and insights of record practices shared with Polish lutnikami violin making at national seminars, presenting papers on contemporary lutnictwie in the United States, Canada, and Italy. He was also the initiator and the first presenter of a series of meetings "Lutherie without secrets." It is still a tireless promoter of violin making, gives, inter alia, lectures for the residents of the region in which he lives and annually for music courses at Sagan in the 'Summer Music Academy ".
In 1999. Arranged in Lubin concert celebrating the 25th anniversary of his creative work.