Alessandro Peiretti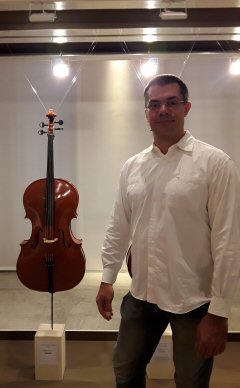 Vita
He completed his Performer's Diploma in cello at the Music Conservatory "Giuseppe Verdi" in Turin, Italy, under the guidance of Antonio Mosca. Consequently he attended further studies with Antonio Meneses and Rocco Filippini at the Accademia Stauffer in Cremona.
After performing with numerous italian and foreign orchestras, he has worked with the Symphony Orchestra of Milan"Giuseppe Verdi", on a regular basis since 2002.
He has developed his interest for luthery ever since he was a child, following his father's footsteps, Davide, a renowned restorer and violin maker. In his training path, he kept classical italian tradition as a point of reference, laying the basis for developing his own identity as a violin maker.
His first cello gained the 6th place at the Cremona International "Triennale" Competition of Violin Making, in 2009, reaching large consensus from the jury.
In 2010, he received the 2° prize - silver medal, in the cello section, at the 4th Lutherie National Contest of the town of Pisogne - Iseo Lake (Brescia), in the category of professional violinmakers.
In April 2013, he delivered a lecture called "Mani per suonare, mani per costruire", as a violinmaker and cellist as well. The event was coordinated by Fondazione Antonio Stradivari di Cremona and concluded the "Costruttori di Armonie" festival at Auditorium di Milano.
At the XIV Cremona Triennale competition gained a Honorable mention and A.L.I. award for the cello "Aurora".
At the XV Cremona Triennale competition gained the 3° prize - bronze medal for the cello "Lux".
Starting from october 2018, he is teacher of varnishing at the Civic School of violin making in Milan.
Contact
Alessandro Peiretti

Strada delle Querce, 1
27020
Parasacco di Zerbolò (PV)
Italy
E-Mail: alessandro.peiretti@gmail.com
Telephone: +39 3334930050
Impressions