Lajosz Konya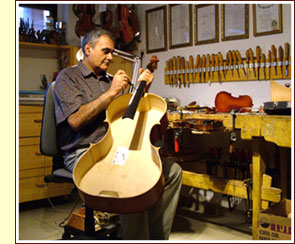 Vita
Lajos Konya is an instrument maker from Tatabanya, Hungary. He was born as the second son in a craftsmen family. His father, brother, himself and the two grandsons have also chosen the wonderful craft of violin making as a profession. At first he dealt with folk instruments and decoration carving, later he started building stringed instruments.
He has been working as an independent craftsman in Tatabanya since 1969. Besides his own models he builds his instruments on the model of the great Italian masters. Each of his instruments goes with a hand written certificate. He works both with oil and spirit varnish.
He is a regular participant at individual and group exhibitions. Among others his prizes include:
"Diploma for Excellent Quality" in 1987.
KONSUMEX Instrument Exhibition, 2nd Prize in 1988.
Handcraft Diploma in 1989.
BNV 2nd Prize in 1995.
Honour of "Silver Wreath Master" in 1996.
Handcraft Masterpieces Exhibition, 2nd Prize and special prizes between 1995 and 2007.
National Exhibition of Hungarian Violin-makers, 1st Prize in 1998.
"Golden Hand", IPOSZ professional prize in 1998.
International Exhibition of Violinmakers, 1st Prize in 2000. "Golden Wreath Master" Honour in 2000.
He attended the international exhibitions of Mittenwald five times and the one in Cremona three times. He was elected "Honorary citizen of Tatabanya" in 2004. He was also placed second on the Exhibition of Violinmakers in Gyor, 2006.
Contact
E-Mail: lajos@konyaviolin.hu