Marcello Bellei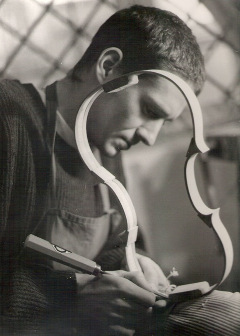 Vita
Marcello Bellei was born in Modena, Italy, in 1976. He attended the school of violin making in Parma from 1996 to 1998, where he was taught by Renato Scrollavezza.
Following his graduation, Bellei worked for Lorenzo Frignani in Modena until 2003. During this time, he also worked for Alberto Giordano in Genova and Marco Imer Piccinotti in San Polo d'Enza (Emilia Romagna).
In 2001 Bellei won second prize for his violin in the national violin making competition in Baveno, and was also awarded the special "Provincia di Cremona" prize for the best sound.
Marcello Bellei is a founding member of the Parma Violinmakers' Association, formed in 2002, and he has been a professor at the college of violin making in Pieve di Cento (Bologna) since 2003.
Contact
E-Mail: info@marcellobellei.it
Impressions